The reason for building this car was purely to beat my dad around a race track.
I had a C20XE engine in the garage. I know these engines are great. So that was the engine sorted. I am not a mechanic so any transplant had to be a simple one. I found that the smallest car that was easy to put this engine in was a Nova.

I decided that since I didn't have the standard injection system that I would bite the bullet and get some throttle bodies. I found out that I had a life policy that was worth about 2k. So I cashed that in and bought the TP208 kit from SBD.

Three months later it was taken to Longlife exhausts and had a new system fitted. I wanted a centre exit exhaust so I had taken the spare wheel well out. Once that was done, I insured the thing and put it on the road. After lots of tweaking and bug fixing it went for its first trackday at Keevil airfield (Nov 2003). I got banned from the day because apparently the car was too noisy(never had a problem anywhere else). But it did go very well! With that I never booked another trackday with motorsport events because they where way too sensitive about noise. On the static noise test it was just 94db.

Anyway Castle Combe was just down the road and it was almost time for my first trackday and my first time on track with my dads car(2004). The Nova was fast but not fast enough!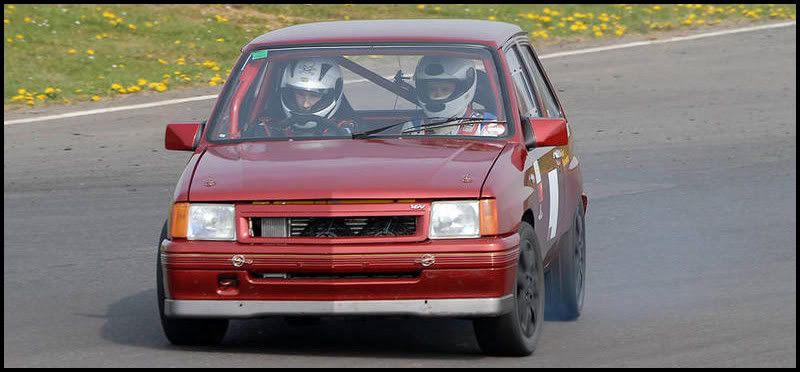 After a few trackdays I decided more development work needed to be done. So a quaife ATB diff was bought (Mid 2004) and that improved my lap times by four seconds!! Now I was on a par with the RS Turbo.

At the end of the year more development work was needed(2004/2005). I decided that the suspension needed more work and that the car needed to be lighter. So I bought a fiberglass boot and tailgate as well as some AVO coilovers and polycarbonate windows.

Now the car was a lot better through the bends as well as being that bit quicker everywhere else. The lap times dropped again. Another year of having fun on track passed and it was winter again. So time to develop the car further(2005/2006). I wanted better tires but a 195/45R16 is not a common tire. So I changed to 15" wheels and put on some Toyo R888's. Tagged the cage in to the A&B Pillars, Took all the unnecessary brackets out, lightened the wiring loom, took out the heater matrix and blower, took out the dash and put in a front heated windscreen.

On the first outing after all this work (2006) I killed the gearbox. Bugger!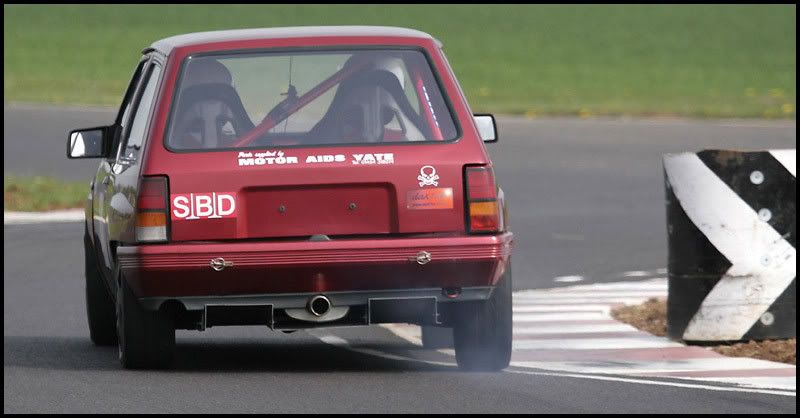 Still the car went well up until the box broke. I fixed that and ran the car for a few months, then decided that the rear bumper was a parachute and not letting the air escape from underneath the car well enough. I decided to fit a rear diffuser.

This didn't improve the performance of the car, but made it a lot more stable so it stayed on. I also picked up some bigger brakes, not because I really needed them, but they came along for the right money. By this time my car was way faster than my dads car and I wanted another challenge. So I decided to sprint it. What fantastic fun that is. It showed just how fast my car was or wasn't. I came 8th in class on my first sprint. I was happy with that.

So at the end of 2006 the car came in for its winter modifications. I decided that it needed a bit of an overhaul and a tidy up. I also decided that instead of making the engine more powerful I would get a Quaife gearbox instead. So the engine came out and the old F20 box was sent off to Quaife for a nice new Straight Cut Close Ratio gear cluster. Whilst the engine was out I made it a bit prettier by spraying a few bits and bobs. I also treated it to a new cambelt and followers.

After my trip in to the gravel trap I decided that I didn?t want the brake or fuel lines outside the car so I brought those inside as well. I ordered a swirl pot and then got hold of SBD for a proper injection pump, fuel filter and fuel pressure regulator. I already had a fuel pressure regulator but this new one was what SBD use for all their upper end engines. It also fitted on the end of the fuel rail, which really neatens up the plumbing.

Whilst I was at it I decided that I would replace all the bushes and rose joints on the car. I also bought a new exhaust manifold and wanted a bigger bore exhaust system since the standard one I was running could have been restricting the engine. Even if it wasn't, I was going to have a better engine at some point so I thought I might as well beef up the components now rather than later. With this in mind I also replaced the drive shafts and CVs with the bigger 2l items. Anyway back to the exhaust. If I wanted a bigger exhaust system I would have to change the gear stick from the gear stick to the gear linkage. This was because on a Nova it hangs under the car in the exhaust tunnel. There isn't much room down there as it is! So off came the old gear linkage and the gear stick from a Vauxhall Cavalier was put in its place. The Cavalier gear stick mounts inside the car thus freeing up lots of space in the exhaust tunnel. Whilst it was out I also looked at the standard gear linkage. Mine had lots of play in it. So after some thought and some experimentation I came up with a fully rose jointed linkage with no play in it what so ever! Bargin!
Back to the exhaust again! I also wanted a 2" exhaust system, which is quite big for a little Nova. I decided that I would have three silencers put on it if there was room under the car. The silencers that the bespoke system makers use are all free flowing so there was no problem there. I took the car to Infinity Exhausts that had just move to my home town (Kind of a no brainer really). Told the guys what I wanted and let them get on with it.

My first time out after all this work was great! Although the car went back to under steering a bit. So after the first trackday I invested in some harder rear springs and was going to test them out at Llandow. I had also bought some new tyres to test as well. When I arrived at Llandow it was raining, I hate driving in the rain! But it was a chance to try out my new wets. Now I know Llandow is a grippy circuit but these new wets (Eagle F1's) were awesome! Almost like driving in the dry! Then for the afternoon the sun came out. On went the proper tyres and I went out to test them. I usually run on R888's but bought some medium compound Hankook Ventus rally tires and although the R888's are awesome compared to normal road tires, these things were a step up again! It took a while to get used to the amount of grip they gave me. That coupled with the new gearbox and suspension made the car feel so planted and fast it was unreal! A fantastic day of testing.

That's pretty much how the car has been since. My plans now are to build an engine for the car that it can now handle. Hopefully I will be able to scrape enough money over this winter to do that. But if not it doesn't matter since the car is great fun to drive anyway. I also need to get it log booked so that I don't need an MOT for sprints.